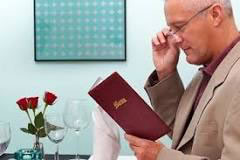 I've had glasses for a few years and I was told then that you needed to upgrade the strength of the glasses every one or two years. I did not until recently. I was getting to a point where I was struggling to see, even with my current pair of glasses. Changing the lenses, which cost a fortune, has really changed things rather dramatically for me. It is amazing how parts of your body start failing you at what you consider as a relatively young age, and how we all just have to accept those types of things. The funny thing is you can fairly easily choose yourself some cheap glasses at the airport and they will work just perfectly, but once you put yourself in the hands of optometrists that need to run tests on you and everything else they can do, and by the time they are finished you end up with pretty much the same glasses, but at literally 30 times the cost of just buying a pair of cheapies off the shelf.
I do also end up having to buy those cheapies off the shelf, because I have arrived more than once at the airport without my glasses and I have reached that stage where if I don't have my glasses certain documents are completely illegible to me, especially later in the afternoon or early evening. In the morning, when my eyes are fresh I can see them, but later I cannot.
I must say, I don't know if there is such a thing as growing old "gracefully" but I will say I am growing old on the "I don't care" basis. In other words, if wearing glasses is what it takes to see something I honestly am going to wear glasses and could not care what it looks like. I guess I am only a few years away from getting that open top sports car which seems to be what most middle-aged men try and pretend that they are not in fact aging while slowly driving up and down the streets of Parkhurst. So many of them would look so much better if they spend some of that money perhaps on a hair transplant and did just a touch more work in the gym because nothing is going to get past the extra 30 kgs they are carrying on their stomach and the Ferrari or fancy Porsche might work for some people, but putting a bit of effort into the body might do even more!