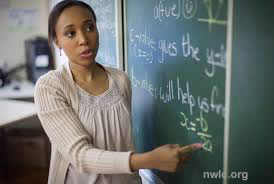 This is one of those topics I have always felt very passionate about. My grandfather, on my mother's side was a school principal in Amanzimtoti and my grandmother, Helen Wilson, was a school teacher. She went to University at a time when very few women did and was a very talented women who entered one of the few professions open to women at that time. In those days, being the principal of a school was an important position to hold and would have made you, not quite equal to the Mayor of Amanzimtoti, but certainly to be one of the more prominent people in town and the job was much better paid, relative to other jobs at that time, than it is now.
Teachers around the world are getting paid less and less with the result that the field is attracting the worst students – quite often, and statistics in some countries bear this out, those who take on teaching jobs come in the bottom one-third of the results at their University or College. The countries that are taking education serious and paying quite generously are actually famous for a far better system of education and that would include South Korea, Finland and Germany.
If you want to attract a top talented teacher you have to pay more and you should want to attract the top talented teacher because do you want your children to be taught by the most talentless, bottom of the class people? Teachers should not be at the bottom of the pile when it comes to salaries and as it is we lost a fortune of our top teachers to the UK about 10 to 15 years ago, including one of my good friends, simply because he could earn so much more money in London and be living in an international city as well, than he could in South Africa.
We lost our nurses to Dubai, our dentists to Canada, our doctors to London and all for similar reasons, but I would say really there are few people that are paid less than our nurses and our teachers and both of them are critical. Ask yourself why there has been such an explosion of personal injury and medical negligence cases in South Africa? The best nurses left and we lost a lot of teachers and continue to do so. This however, is not a problem that just South Africa has – too many countries think that they can underpay teachers and that somehow underpaid teachers will produce a new crop of geniuses. If you want the best, you need to pay the best and things get worse when people know that the private schools will pay better salaries to the teachers than in public schools and so of course, the children of middle to wealthy parents pay more so that their children can get a better education and a better teacher than the person sitting in a village in Mpumalanga. The problem is if you don't educate the person sitting in a village in Mpumalanga properly, there is every chance that he is going to either do something bad to you and your family, because he gets into crime or he is never going to be a valuable member of society.
People always ask me when will South Africa resolve its problems and I always say to them that it will be a number of years after we get the education system right and we have not got it even close to right yet.