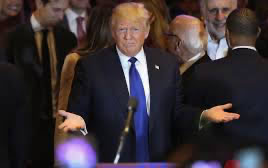 I think that Donald Trump is going to get hammered in the US elections next week and no doubt he may bring some court challenges as he has threatened, but I believe he is going to lose in any event – and I am not sure it will be close enough to even make it viable for him to bring court challenges. He will of course claim that it is the biggest fraud in all history, because he is just simply a man who cannot accept that has lost and isn't as popular as he believes he is – and the reason for that is that he is a narcissist and can never ever admit defeat or when he is wrong.
When the history of this election is written and when people look back on 2016, I think one of the factors they will point to, apart from the incompetence of Donald Trump, will be all of those who did not want to support Trump the last time but did not like Hillary Clinton either. So many of them did not vote at all and I think they have learned their lesson. When Hillary Clinton said that the next President of America could choose two or three Justices of the Supreme Court people attacked her saying she was being hysterical and that that was not going to happen. Donald Trump has now selected three Justices of the Supreme Court and all of those who did not vote last time now know the consequences of that decision in 2016 and will, I believe, come out and vote in big numbers. A lot of people don't appreciate that there are more registered Democrats in America than there are Republicans, and that does not mean that I agree with the Democratic policies, some sections of which do tend to run too close to socialism, but whereas Ronald Reagan sold America capitalism with a heart, we have seen the heartless side of capitalism with Donald Trump. I think that is going to lead to a resounding defeat for him in the election.
I think that common decency will win the day and the rest of the world will be so much better off - Donald Trump has certainly not been good for the world.