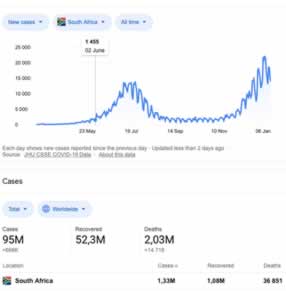 I wrote a blog article early last year about the statistics we would see about Covid. In that article I said that we will discover one day that the deaths from Covid were far higher than whatever we would be told and that the statistics in South Africa would be hopelessly out. I said the only way we would know how many people actually died from Covid would be to compare it to the normal deaths in a year and see how many extra deaths there are.
That blog of mine has now been confirmed. The government has reported that just during a December period the excess deaths, not attributed to Covid, but higher than normal, were 130% higher than the normal deaths during that period.
That means, with there currently being allegedly 35,000 deaths from Covid in SA that figure is hopelessly wrong. Is it double that number, is it treble that number – we will not know until all those excess deaths last year and still to come this year are calculated by experts in future.