iOS16 and voice dictation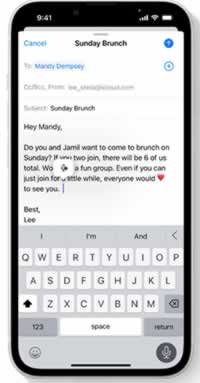 Apple has announced that the next version of their operating system, which will probably be released around September, will have improved voice dictation. At the moment, they apparently process 18 billion dictation requests every month. The new features will allow you to have the keyboard open at the same time that you are using the voice dictation, so you will be able to switch between voice and touch while getting that message out!
I find using voice to dictate messages and quick e-mails on my phone to be very useful, but at the moment you have to switch between the two and you can't have them both open at the same time. The new dictation features will also add punctuation automatically to the text in future.


| | |
| --- | --- |
| Posted by Michael de Broglio on Friday 29-Jul-22 | |

Post a Comment

Comments

on Thursday 11-Aug-22 07:25 AM
on Monday 08-Aug-22 03:47 PM
on Friday 05-Aug-22 04:22 PM
on Tuesday 02-Aug-22 11:07 AM
on Monday 01-Aug-22 04:52 PM
on Monday 01-Aug-22 04:37 PM
on Monday 01-Aug-22 09:15 AM
on Monday 01-Aug-22 09:02 AM
on Friday 29-Jul-22 11:59 AM
Home




Johannesburg based attorney specializing in personal injury matters including Road Accident Fund claims and medical negligence matters. My interests include golf, reading and the internet and the way it is constantly developing. I have a passion for life and a desire for less stress!

Have you been injured in a motor accident?





Recent Settlements
Lumbar spine compression fractures
R2,500,000.00
Severe hip fracture requiring total hip replacements
R3,305,000.00
Head injury with disfiguring facial scaring of a young female
R4,000,000.00
Whiplash and compression fracture of the spine
R4,000,000.00
Broken Femora
R1,914,416.00
Broken Femur and Patella
R770,881.15
Loss of Support for two minor children
R2,649,968.00
Fracture of the right Humerus, fracture of the pubi rami, abdominal injuries, head injury
R4,613,352.95
Fracture of the right femur, Fracture of the right tibia-fibula
R1,200,000.00
Broken Jaw, Right Shoulder Injury, Mild head injury
R1,100,000.00
Degloving injuries to the hips, legs and ankle
R877,773.00
Head injury
R2,734,295.12
Fractured pelvis
R1,355,881.53
Damaged tendons in left arm
R679,688.03
Fractured left hand
R692,164.48
Amputated right lower leg with loss of income
R3,921,000.00
Fractured left foot
R600,000.00
Head injury and multiple facial fractures
R5,000,000.00
Head injury, compound fracture right femur, right tib and fib fracture, and injury to the spleen
R4,529,672.06
Head injury, multiple facial fractures, collapsed lung and a fracture to the right frontal bone
R2,890,592.77
Loss of support
R5,144,000.00