ADMITTED 25 YEARS AGO TODAY
On 29 August 1995 I was admitted as an attorney. It was a tremendously proud day for me, marking as it did the end of a long journey which begins with school, went through two degrees at university, the Practical Legal School in Durban where I was the class Chairperson, and then one year of articles at David Levithan.
I was admitted in the Pretoria High Court and the advocate that assisted me with the application, was extremely bright and very influential in my career at that time, John Peter has subsequently become a Senior Counsel and will no doubt, in due course, become a judge.
It is amazing how quickly time flies - I really do not think it has been 25 years although if I went on the basis of stress then it probably felt like 50 years. If I went on the basis of time, I would say it probably feels more like 10 to 15 years. There are so few attorneys that last 25 years in the profession that the Law Society actually gives out certificates to them at the Annual General Meeting. But, since I know the real purpose of those certificates, it is not something I would attend, simply to collect a certificate. The real purpose, and I sat on the Law Society when they came up with the idea, is to get more people in attendance at the AGM and to sit through six or seven hours, to collect a framed "endurance" certificate is just not me. It is about what it means to me, what I have achieved as opposed to time, and not getting any accolades in front of a crowd.



Apple dominates the market

Apple is very close to becoming the first $2 trillion company by market capitalisation. It also is now 6,5% of the entire S$P 500, the index of the biggest 500 shares in America. That is a huge percentage of an index for any one company to have and at its peak, 35 years ago, IBM was 6,4% of the market. It is amazing if for so many years people knocked Apple shares giving a variety of reasons why they would not rise and they have now gone absolutely crazy. Later this year of course the new iPhones are going to be released including their first 5G phone. As somebody who owned and sold Apple (at a good profit) at considerably lower prices than now I cannot help but feel that it is just too high, but it is one of those companies that really absolutely leads and totally dominates in its market.
*I am not a registered financial advisor and I do not give financial advice to people.*



Covid-19 statistics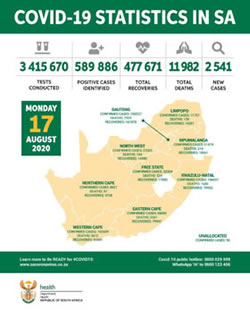 It is fascinating to see the various statistics that come out each and every day and of course, a blog is going to be outdated pretty quickly. We currently have 590,000 cases in SA with a total of 12,000 deaths.
We need to compare that to other causes of death in SA, including guns and violence and specifically to motor accidents - which result in approximately 14,000 deaths a year. In America, Covid-19 is already the third leading cause of death for the year, but many people would have thought it would be the leading cause. Cancer and heart disease still kill more people in America than Covid-19 does even though, at the time of writing this, it had killed 170,000 Americans and infected 5,4 million.
How many people are killed will depend on how soon a vaccine becomes available and by available I mean available to you and me – not just to people in special risk groups, politicians and sports people and celebrities who will all no doubt get it before the rest of us.



Keeping Doors 0pen During Covid-19
It has become increasingly obvious over the last few months that one of the most important things, when dealing with Covid-19, is to ensure fresh circulation of air. The virus floats in the air, and people who work, or congregate in a closed area, such as a nightclub, are the most at risk. Open air, or creating a flow of air in and out of a building, is obviously the best place to find oneself.
In that regard, all of my staff are encouraged to keep all of their windows and the doors of the offices open. It may not seem convenient during the colder months, although truthfully Johannesburg and Pretoria have wonderful weather in the late morning and early afternoon on any given day, but it's the right thing to do. One can always dress for the weather, and if it means that the offices are colder than normal, but safe, that's clearly the most sensible option.



Click here to return to the blog home page (latest 12 items).



Johannesburg based attorney specializing in personal injury matters including Road Accident Fund claims and medical negligence matters. My interests include golf, reading and the internet and the way it is constantly developing. I have a passion for life and a desire for less stress!

Have you been injured in a motor accident?

Recent Settlements
Lumbar spine compression fractures
R2 500 000.00
Severe hip fracture requiring total hip replacements
R3 305 000.00
Head injury with disfiguring facial scaring of a young female
R4 000 000.00
Whiplash and compression fracture of the spine
R4 000 000.00
Broken Femora
R1 914 416.00
Broken Femur and Patella
R770 881.15
Loss of Support for two minor children
R2 649 968.00
Fracture of the right Humerus, fracture of the pubi rami, abdominal injuries, head injury
R4 613 352.95
Fracture of the right femur, Fracture of the right tibia-fibula
R1 200 000.00
Broken Jaw, Right Shoulder Injury, Mild head injury
R1 100 000.00
Degloving injuries to the hips, legs and ankle
R877 773.00
Head injury
R 2 734 295.12
Fractured pelvis
R1 355 881.53
Damaged tendons in left arm
R679 688.03
Fractured left hand
R692 164.48
Amputated right lower leg with loss of income
R3 921 000.00
Fractured left foot
R600 000.00
Head injury and multiple facial fractures
R5 000 000.00
Head injury, compound fracture right femur, right tib and fib fracture, and injury to the spleen
R4 529 672.06
Head injury, multiple facial fractures, collapsed lung and a fracture to the right frontal bone
R2 890 592.77
Loss of support
R5 144 000.00