Riots in South Africa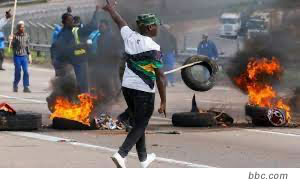 That headline is how the continued violence and destruction is once again being covered overseas. We are fortunate that the videos we all share over WhatsApp aren't that widely publicized. Once again, we are in turmoil and again it relates to Jacob Zuma. I can't imagine most of his so-called supporters could explain why their "support" for him involves breaking into shops and stealing all the goods.
I was surprised that the Minister of Police praised the Police for their efforts. I hardly think what we have seen represents law and order – but he may know things that I don't. Those things would have to be pretty scary to be praising what appears to be a police force overwhelmed and simply standing by in many cases.
I appreciate that there is a fear of another Marikana, but I can't help but feel the Police should have used more of everything – from tear gas and rubber bullets to potentially live ammunition. We simply cannot have violence and carnage and lives at risk like we have seen this week.



Click here to return to the blog home page (latest 12 items).



Johannesburg based attorney specializing in personal injury matters including Road Accident Fund claims and medical negligence matters. My interests include golf, reading and the internet and the way it is constantly developing. I have a passion for life and a desire for less stress!

Have you been injured in a motor accident?





Recent Settlements
Lumbar spine compression fractures
R2,500,000.00
Severe hip fracture requiring total hip replacements
R3,305,000.00
Head injury with disfiguring facial scaring of a young female
R4,000,000.00
Whiplash and compression fracture of the spine
R4,000,000.00
Broken Femora
R1,914,416.00
Broken Femur and Patella
R770,881.15
Loss of Support for two minor children
R2,649,968.00
Fracture of the right Humerus, fracture of the pubi rami, abdominal injuries, head injury
R4,613,352.95
Fracture of the right femur, Fracture of the right tibia-fibula
R1,200,000.00
Broken Jaw, Right Shoulder Injury, Mild head injury
R1,100,000.00
Degloving injuries to the hips, legs and ankle
R877,773.00
Head injury
R2,734,295.12
Fractured pelvis
R1,355,881.53
Damaged tendons in left arm
R679,688.03
Fractured left hand
R692,164.48
Amputated right lower leg with loss of income
R3,921,000.00
Fractured left foot
R600,000.00
Head injury and multiple facial fractures
R5,000,000.00
Head injury, compound fracture right femur, right tib and fib fracture, and injury to the spleen
R4,529,672.06
Head injury, multiple facial fractures, collapsed lung and a fracture to the right frontal bone
R2,890,592.77
Loss of support
R5,144,000.00