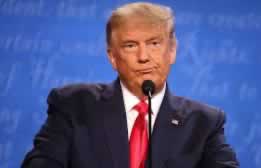 Four years ago, at this time, Hillary Clinton had to attend the inauguration of Donald Trump. She just lost an election to him, but in the interest of democracy and in the usual sign of leadership, she turned up for what is essentially the party of the winner. I think you know where I am going with this.
Joe Biden and Barack Obama also attended that inauguration and so it is quite stunning, after some 150 years of this tradition, that Donald Trump, a man who loses frequently, but does not like to admit it, could not turn up for his opponent's inauguration. Instead, he demanded a send-off at a near air force base where thousands of people received an e-mail asking them to come and to "bring 5 friends with" – and they were so desperate that the invites were even sent to his critics and people he had fired. In other words, on the same day that an inauguration for the new President was being held in the same city, he was begging people to turn up at his event rather.
I think that Donald Trump ultimately, if we leave aside everything else, personifies exactly the thing he hates the most – losers. The problem is, unlike those of us in golf, horseracing and in litigation, who have to learn to lose sometimes and do so gracefully, he is not only a loser, but he is a poor loser.